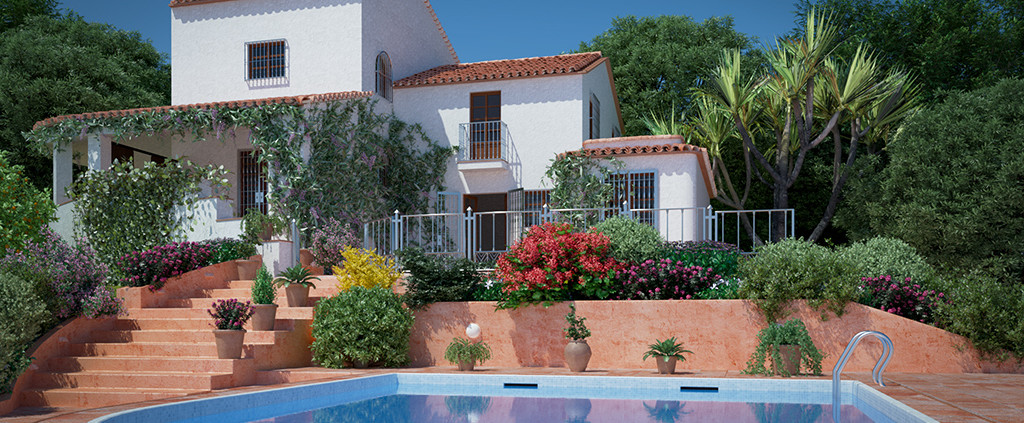 6 Reasons to Use a Rendering Tool in Your Next Architecture Project
What are 3D renderings and can they benefit your architectural projects? Architectural renderings are realistic computer generated images that are often created for presenting design ideas.  Starting with a 3D model created in a design tool like SketchUp or Rhino 3D, designers then transform this model into beautiful rendered images and videos that bring their design ideas to life. Renderings realistically incorporate textures, lighting, materials, backgrounds and colors to 3D models that enable clients to accurately imagine the final project. 
By eliminating issues and iterating on designs early in the design process, renderings ultimately save designers time and money. Clients can "tour" a building and explore its details even before the construction crew breaks ground.
Here are 6 reasons to use a rendering tool in your next architecture design. 
1. Create more detailed designs
Architectural clients appreciate and will focus on details. While a 3D model is a great starting point, it lacks details. A rendered model contains the details a client requires. These realistic renderings let clients see what the finished project will look like in the exact environment in which it will be built. Clients are able to visualize the entire project, sampling different items such as materials, fixtures, paint colors, and lighting quickly and easily. Seeing the final project makes it easy for a client to visualize their future building and ultimately select you as their architect for the project.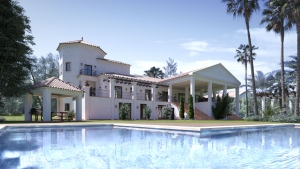 2. Save money by discovering issues early in the process
Renderings bring a design to life. Designers and clients can see what the final building will look like before construction begins. By examining the details of a building before construction begins, issues become apparent early. Eliminating issues early in the design process keeps the project moving forward and avoids costly delays. 
3. Impress clients with a leading-edge appearance
Give yourself an edge by using 3D renderings to demonstrate to your clients you are up to speed on the latest technologies. Your design presentations will highlight your architectural abilities in an easy to view format. Including renderings in your design presentations will enable clients to better appreciate your architectural abilities. Architecture is highly competitive and design presentations must be attention grabbing. Renderings do exactly that. Because of the real-time nature of FluidRay, you can adjust designs on the fly; creating more excitement and winning over even the most demanding of clients. 
4. Change options in real time & offer multiple options 
Clients are notorious for not knowing exactly what they want or they change their minds several times during the design process. This is natural and should be expected and incorporated into timelines. Using a rendering tool, like FluidRay, allows for multiple design options to be shared and details to be modified in real-time to better facilitate the process. When clients can see multiple options, decisions are made quickly and efficiently shaving time off a project.
5. Improve marketing of your firm 
Have you visited a website and known immediately that it represents an excellent firm? Potential clients visit architectural websites to view previous projects and to understand capabilities and specialties. Using renderings in your case studies, on your website, in your proposals, and in your marketing materials gives a professional, high-quality presentation to the clients considering you. These images can and should be shared across all marketing channels to showcase your capabilities to a large number of clients. A strong online presence is a low cost way to attract new clients and rendering will help get you there. 
6. Communicate ideas easily
Effective communication of design ideas and iterations is certainly one of the most important aspects of the relationship between architect and client. FluidRay plays an important role in this communication. FluidRay renderings are fast and easy to create. Simply import a 3d model into FluidRay, begin applying materials and environments, and adjust the settings until your rendering is complete. This process takes just a few minutes and the results can be shared easily either in person, over a screen share or electronically shared images. Because of FluidRay's real-time nature, modifications are made in seconds enabling communication between you and client to move forward efficiently.

Are you ready to try rendering for your architectural designs? Our pricing is inexpensive and we offer a free trial so you can see how fast and easy it is to turn your 3D models into realistic images that will inspire your clients. To learn how to create beautiful renderings in FluidRay, we provide a library of training tutorials.  Experience the good side of rendering today!
https://www.fluidray.com/wp/wp-content/uploads/2015/09/AE25-09_pp-1024-web.jpg
587
1024
Julie Hobart
/wp/wp-content/uploads/2019/09/siteLogo4.png
Julie Hobart
2020-04-22 13:59:51
2020-04-22 13:59:56
6 Reasons to Use a Rendering Tool in Your Next Architecture Project