5 Reasons Interior Designers Choose FluidRay for Rendering
There's nothing like walking into a well-appointed space that has been well planned out yet feels natural and comfortable. Interior designers have a talent for creating these environments but it takes a special dance of communication and coordination with their clients to get it just right. To support this level of communication, designers turn to FluidRay as their choice software for easy and fast rendering.
Here are the top 5 reasons why you'll love FluidRay rendering software too:
1. Quick Learning Curve
FluidRay's intuitive interface and straightforward training resources make learning 3D rendering effortless. Our engineers designed FluidRay with usability in mind and the workflow can be grasped in a matter of minutes. To make rendering even easier, FluidRay comes with a large library of environments, materials and backgrounds. Check out our training tutorials for more details on learning how to render images in FluidRay. You'll create designs quickly and easily, freeing yourself up to focus on imagining interiors for your clients. 
Regardless of technical expertise, anyone can get up to speed on FluidRay in just a few minutes.  
I love how I can drag & drop materials, lights and furniture in my interiors and quickly see the results! I can produce different proposals for my clients in no time. I can even tweak the illumination and materials while they stand by my side!

– Evelyn G.
2. Lightning Fast
With many rendering applications, large images can take several hours to complete. However, FluidRay's lightning fast technology allows you to create immediately visible images that can be edited as needed, streamlining your workflow! Our engineers use artificial intelligence to ensure super fast performance and there are no GPU limitations. 
I don't usually have the luxury to spend time figuring out how to make a realistic material or set up a lighting studio for each new product; here's when FluidRay comes to the rescue.

– Diego P.
3. Affordable
Our pricing plans make FluidRay accessible to anyone with no long term contracts or hidden fees making it the tool of choice for independent designers and firms alike. In fact, ALL3DP recently ranked FluidRay as one of the best rendering tools on the market, comparing it with rendering software that costs considerably more.  Learn more about our pricing options and find a plan that works best for you. 
4. Creates Stunning Designs
Did you know that FluidRay can take your 3d model and transform it into a realistic and beautiful image in a matter of seconds? While designers will review a 2d image and can imagine its full potential, many interior design clients struggle with 2d images and will imagine a space much more confidently with a rendered file. Using FluidRay to communicate by sharing realistic images allows you to better communicate with your clients both during the proposal phase and design phase to get plans exactly right. FluidRay also enables you to make changes to your rendered images on the fly so you can quickly communicate changes, impressing your clients and getting the job done.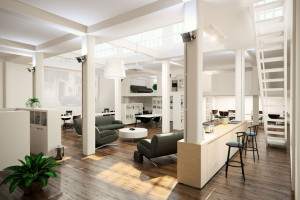 I downloaded FluidRay, played around with the settings (very intuitive) and in a few minutes I was able to show my clients beautiful images of my designs.

– Ian P.
5. Compatibility
FluidRay is compatible with your favorite modeling software and supports the following formats: SketchUp (.skp), Rhino OpenNurbs (.3dm), FBX (.fbx), Alias Wavefront (.obj), Collada (.dae), 3DS (.3ds, .ase), DirectX (.X), Stanford PLY (.ply), STereoLithography (.stl).
Simply open up FluidRay, click "import model" and select your file. You'll be rendering in seconds! The included extensive library of materials, models, and lights all readily available in an easy drag & drop interface enables you to create any space you can imagine. 
FluidRay's extensive features, easy-to-use interface, quick rendering capabilities, affordability, stunning designs, and modeling software compatibility make it the perfect rendering software for interior designers. 
If you want to experience how FluidRay can help you inspire your clients, download our software for a free trial. Our pricing is inexpensive so anyone can experience the good side of rendering!
https://www.fluidray.com/wp/wp-content/uploads/2015/02/interior1_1920x1080_web.jpg
1080
1920
Julie Hobart
/wp/wp-content/uploads/2019/09/siteLogo4.png
Julie Hobart
2020-03-12 15:14:26
2020-03-12 15:14:31
5 Reasons Interior Designers Choose FluidRay for Rendering